Embroidery threads : Madeira threads
CLASSIC (rayon/viscose): One cannot imagine a high quality embroidery without using the Classic of all threads, Viscose. Madeira threads CLASSIC combines all characteristics demanded from such an embroidery yarn. MADEIRA's raw material differs from most Viscose threads of other manufacturers. MADEIRA CLASSIC is made of high quality material, thus achieving an unsurpassed tensile strength. It is so high that MADEIRA CLASSIC can be embroidered at even 1,200 stitches per minute. Resulting productivity is unbeaten worldwide. Furthermore this Viscose possesses a unique and natural shine, combined with a silky feeling.
At the highest level and "Made in Germany by MADEIRA": This is Polyneon quality. Polyneon is produced with a draw winding method especially developed by MADEIRA. This guarantees that it will run outstandingly well on every embroidery machine without forming the usual loops. Polyneon is dyed by MADEIRA in a special way, turning it extremely fast to Chlorine. Therefore MADEIRA is able to give the corresponding instructions regarding chlorine fastness on its color card: Chlorine treatment for half an hour at 30° C and up to 20 g Chlorine / litre. Consequently Polyneon can be subjected to any other extreme strains. Another plus of Polyneon is its wonderful shine, almost approaching the brilliance of MADEIRA Classic. Polyneon is your first choice when you need a yarn that is heavily strained and for embroideries on textiles that are to be washed extremely frequent.
Truly matt! Frosted Matt No.40 – The world's first truly matt and light-fast embroidery thread brings a new sensation to the perception of colors and new highs to fastness to light. Due to the unique ceramic core material this embroidery thread reflects the true colors intensively with enormous coloring power. Due to highest possible dying methods Frosted Matt has an unmatched overall rating to fastness to light. Colors remain and don't fade easily, as others do.
Flame & heat resistant. MADEIRA´s new FIRE FIGHTER thread does not catch fire but sparks trends! FIRE FIGHTER No.40 is a flame and heat resistant embroidery thread which is indispensable to motor sport clothing, workwear and protective clothing. FIRE FIGHTER No.40 is also used to embroider seat cushions of airplanes and wherever special safety aspects are essential. FIRE FIGHTER complies with ISO standards ISO-6941 / ISO 15025 and is available in 25 rich and popular colours. Resulting in confidence and power for the sponsors. When using FIRE FIGHTER, don´t forget to ensure the bobbin thread is also suitably flame retardant: MADEIRA´s special 100% Aramid bobbin thread.
MADEIRA's Metallic Threads meet the highest requirements regarding the variety of colours, thread counts – and of course quality. MADEIRA fully understands embroidery and decorative needs in the industry, which is why we offer such a glorious mix of colours and counts. An Embroidery made with metallic threads is sophisticated, lavish and precious, which means a wide choice of threads is a necessity. MADEIRA threads offers this choice. Because they are more difficult to work with than the Viscose or Polyester threads, metallic threads must also be of perfect quality to ensure optimum use on machines. MADEIRA guarantees this quality. Unique and worldwide, MADEIRA offers seven different thread counts and types. From the finest metallic thread to heavy No. 15 and from smooth to textured yarn. MADEIRA's metallics are in a wide variety of Golds, Silvers and precious metals, dazzling Jewel and iridescent tones, multicolours and lovely subtle elegant shades in seven different ranges! Like all other MADEIRA threads, MADEIRA metallics can be used for embroidery and decorative stitching on anything from lingerie and sports fashion through to jeans, coats, shoes and homewares. Not only this, one of MADEIRA's special Metallics can even be chlorine and stone washed. MADEIRA can be relied upon for quality, range and end use.
Glittering reflexes and metallised effects A sparkling, metallised textured thread in iridescent tones, dazzling jewel and opal shades, pastel crystal hues and magnificent multicolours. Exclusive to Madeira, Supertwist No 30 can be used for embroidery, ornamental seams, and many other decorative applications on high speed sewing machines. New: The Opal and Crystal colors are now suitable for denim wash!
Burmilana No 12 – for wool effects with a hand stitch look – Finely spun wool/acrylic embroidery thread, perfect for high speed computerised embroidery, overlocking and decorative stitching. BURMILANA is a strong and thick thread (330 dtex x 2) which fills designs quickly, with a warm and interesting texture. Colours range from vibrant reds, greens, blues and yellows, through to soft country tones with multi hues, for outstanding special effects. BURMILANA – affordable exclusivity with a few stitches! Burmilana No 12 – for wool effects with a hand stitch look – BURMILANA CO – Very soft and cool due to the high cotton content, the perfect alternative for a fresh and summery look. Oeko-Tex Standard 100 class 1 (Baby-Standard)!
Be transparent! MONOLON is a transparent thread for amazing embroidering ideas, great for creating extraordinary highlights within a thread mix. Filigree designs will have a translucent effect, sometimes difficult to master with dense colours. Developed originally to fix cord threads and sequins, Madeira's Monolon offers the possibility to realize even more unique embroidery designs.
Glow in the dark thread – Makes embroideries glow in the dark, as LUNA stores the light, emitting it in the dark. The luminous power of the thread depends on the intensity of the light. A new technology makes LUNA glow in the dark, time after time and much longer than other glow in the dark threads. Thanks to its composition, LUNA is soft and kind to the skin and it can be used as a 40 weight thread. To emphasize single parts of the embroidery: from outdoor, children´s wear, Halloween and carnival costumes. Washing resistant. Works with all embroidery designs. LUNA is now suitable for Denim-Wash!
As a manufacturer of high quality embroidery threads, MADEIRA is naturally also involved in the development of top grade bobbin threads. MADEIRA understands the concerns and needs of the embroidery industry with regard to underthreads, and take the issues very seriously. It's not without reason that MADEIRA has a patent for an automatic bobbin changer! MADEIRA bobbin threads are a guarantee for perfect embroidery. All harmonize with our complete range of top threads and of course are the same high quality. Which means outstanding performance. MADEIRA' s objectives are clear – even more quality thread on bobbins ensures efficiencies and even less downtime. For a wide choice to complement every top thread and for perfect results, MADEIRA offers different thicknesses of bobbin thread (Polyester).
Consommables et Accessoires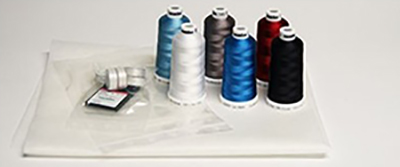 Various materials and accessories are available to guarantee you the best of the productions:
A wide selection to answer all needs, according to your activity