JPO – TAJIMA Europe the 28th and 29th of November 2019 / 10 A.M. to 5 P.M.
Come discover the latest news, the new technological solutions developed for industrial embroidery! Our team of specialists and our partners will be there to answer all your questions.You will be able to see: TMEZ-SC The world's first! An inovative embroidery machine. Inscription before the 15th november of 2019.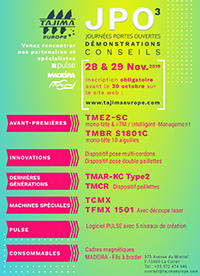 PREVIEW
– TMEZ-SC last born of the TAJIMA family. It's equipped with i-TM (intelligence – Thread Management) and with DCP device Digitally Controlled Presser foot).
– TMBR-S1801C is equipped with 18 needles associated with DCP technology (Digitally Controlled Presser foot).
INNOVATIONS
– Sequin device IV
– Multi Cording Device
LAST GENERATION
– TMAR-KC Type 2
– TMCR équipée du dispositif pose paillettes III
– TMBR-SC équipée du dispositif pose perles
– TMBR-SC 1501 équipée du dispositif muli-cordons
– SAI mono-tête compacte
SPECIAL MACHINES
– TCMX single-head
– TFMX-C is equipped with LASER cutting device
SOFTWARE
CONSUMABLES