November 15 & 16, 2018 – JPO – TAJIMA Europe
Come discover the latest news, the new technological solutions developed for industrial embroidery!
Our team of specialists and our partners will be there to answer all your questions.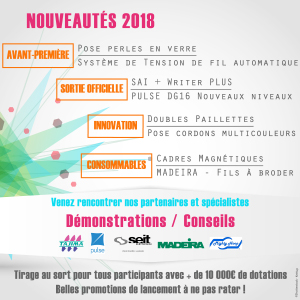 You will be able to see:
PREVIEW
– Seed Beads Device.
– Intelligent Thread Management.
OFFICIAL RELEASE
– SAI and its software Writer PLUS.
– Embroidery software Pulse DG16 with new levels.
INNOVATION
– New generation twin type sequin device.
– New generation Multi cording device.
Registration before October 20th.