Interview with Franck RAYNAL, Claire Lacroix's guest live on the set of of France 3 Région
TAJIMA and textile innovation
'Intelligent' clothes and textiles are developed with the fitting of electric or resistance threads.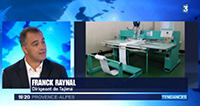 TAJIMA, a manufacturer of industrial embroidery machines, is a company driven by innovation and research and which adapts its models to new technology and the digital world.
In partnership with la Maison Méditerranéenne des Métiers de la Mode in Marseilles, we also grant access to all this technical innovation to creators, who represent the future.

When it comes to comfort, health and sport, connected, warming and illuminating clothes and textiles, with the addition of sound will be a part of our daily lives.
FNID ALL PHOTOS ON OUR TAJIMA EUROPE FACEBOOK PAGE !