Special multi-head embroidery machines
TCMX Mix séries

TCMX Mixis a range of machines designed to increase production efficiency. It opens the path to inventive styles of embroidery! Chenille stitch, boucle stitch and standard embroidery have been brought together in one single embroidery machine. An embroidery head for chenille or boucle stitching is attached to a standard embroidery head, forming a pair (available in up to 15 pairs).
TCMX 600

TCMX 600 is a multi-head embroidery machine designed for chenille stitch embroidery, maintaining a high speed and ensuring both peace of mind and productivity. Stability of stitching is assured in productions of up to 750 spm and up to 23 aligned heads !
TCMX-601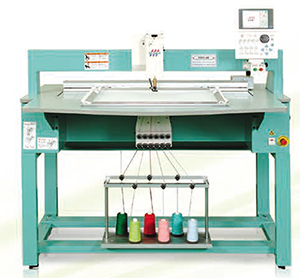 TCMX-601 is a single-head model using the same technology as multi-head models. This model is the best suited for reduced spaces and for small batch production !