This machine is used for applications requiring a wide embroidery field such as university blazers and sports jerseys. The area enables embroidery on traditional items like caps, t-shirts and bags.
It includes a control panel with a 2,000,000-stitch memory and a maximum speed of 1,200 rpm.
Its sensor-based detection system for broken thread predicts production faults and a tie-off ensures embroidery does not continue when there is a break in the thread.
Thread tension is improved with the help of central thread stabiliser between upper and lower threads. Thanks to this take up spring, balance is maintained and, for high-speed embroidery for example, thread breaks are limited (less frayed thread, extra-fine satin stitches protected). Single covers fixed on the thread take up lever alsoprevent the tangling of threads on the high speed setting.
Five types of frame can be fitted on the single-head wide type TWMX professional embroidery machine:
a wide border frame with an exclusive table for embroidering badges, for example,
tubular frames of different sizes to match your products (for the embroidery of t-shirts, sweatshirts and jackets),
the cap frame for embroidery up to a maximum of 360 mm length around the circumference of the cap,
a pocket frame
and an auto clamp frame.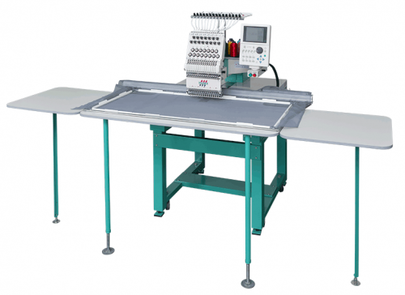 Border frame with X-axis extension unit (optional device).

Other optional devices which can be fitted to the TWMX-C single-head wide type machine will improve your range of creative options, depending on your needs and applications: a sequin device, a high-speed cording device and a boring device.